GODSONGS RECORDING music production
what some of our clients have to say...
GODSONGS music production...Is amazing! They will turn your music dream into reality, awesome production look no further one stop for your dream come through.   Tommy CCT: Singer/songwriter.  
GODSONGS rec. studio has taken on my project of 50 songs and so far has done an excellent job. Michael D'Aigle has really turned my songs into such a professional sound, with the vocals and the music mastered to perfection.  He is also adding some guitar as well, and he definitely knows how to bring out a song to give it some more power! 
Thanks for your professional touch!    Chad Jenner/Singer songwriter 
Michael D'Aigle of GODSONGS studio is the most talented in the business.  He takes a song from our vision to God's ears.  The kingdom of God is what the studio stands for.  I know the Angels in heaven are smiling and singing along to the songs Michael works on.  I have struggled to get my music finished for public presentation then one day God sent Michael my way.  I can never thank either one enough for the blessings I have received. Christa Cossey, Arkansas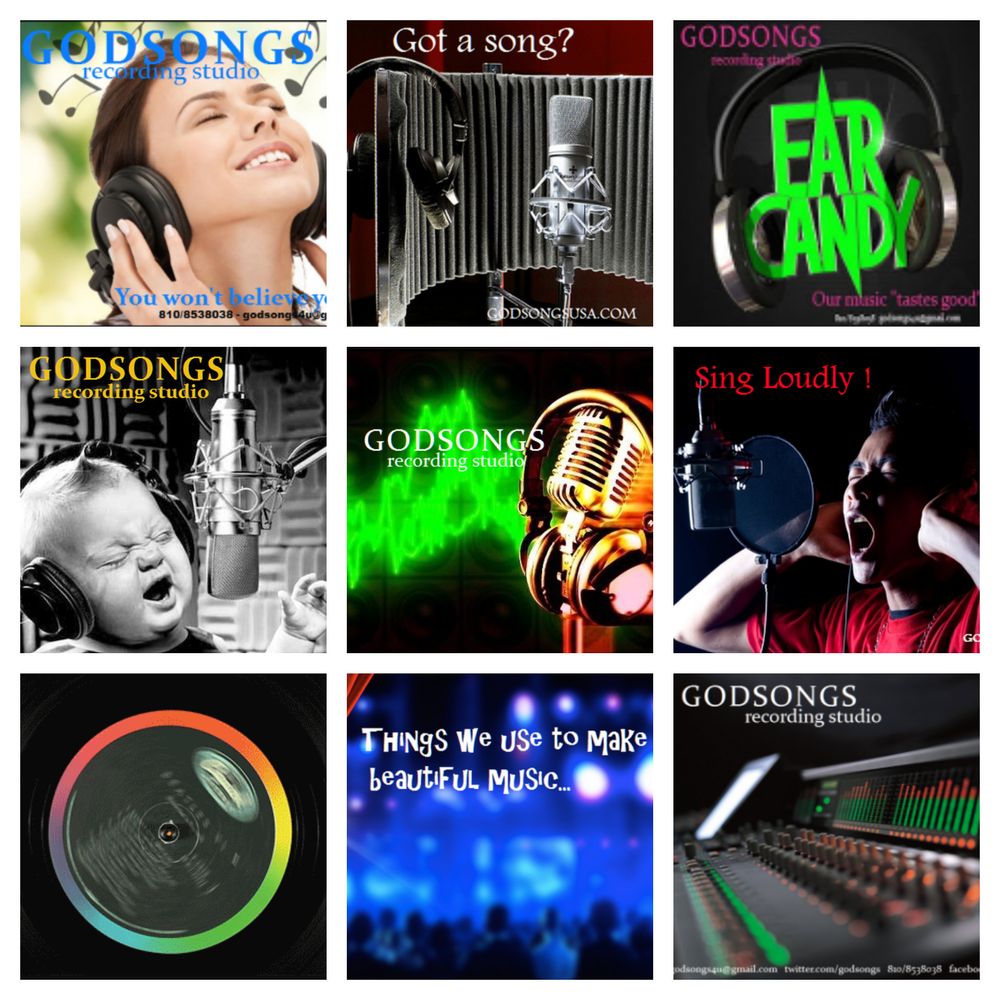 GODSONGS music production
We do christian music exclusively!
If you're a Christian artist/singer-songwriter, or band we are interested in recording your music. Why? It's simple, we believe Jesus Christ is the only answer for a world shattered with terror, fear, and unbelief...

Without knocking secular music, and there's much that is great - we just don't want to invest our time and effort into music that leaves God out of the equation. It's that simple for us.

Rock, pop, country, folk, rap, holy hip-hop, the spoken word, metal and hymns, and everything in between is welcome here at GODSONGS. The "vehicle/music" isn't the bottom line. We believe the words, the message should be positive and agree with the Bible and the teachings of Jesus Christ.  

Songs about sin, death, divorce, hate, abortion, murder, and every kind of evil in the earth are not a problem... We believe songs should be honest, not "sugar coated", and that means we want to record songs that deal with real life - pain, suffering, failure, all of it.  We don't want anyone reading this to think we want to paint Christianity through "rose colored" glasses - where everything is pretty and sterile... that's just not real.   
VISIT: GODSONGSUSA.COM  FACEBOOK.COM/GODSONGSUSA
ATTENTION CHRISTIAN BANDS & ARTISTS/SONGWRITERS... We will master one of your songs for "free"!  Just send us your final mix, as a "wav" file - and we will master it and send back to you asap - no charge. We want you to hear for yourself, what a difference mastering can do for a song's sound. You will be amazed at how great an already good song can sound - after we master it here at GODSONGS. Just email your wav file to: godsongs4u@gmail.com   Put in big caps - MASTER THIS SONG, so we will not delete it. Allow 72 hrs for us to master and return to you.  All songs mastered after that for only. $20.00   Compare that our quality and prices with other large studios - you'll find we can't be beat.    godsongs4u@gmail.com  810 853-8038
WE ARE EXCITED TO INTRODUCE YOU TO 2 AMAZING ARTISTS RECORDING HERE AT GODSONGS...
Benjamin Thomas
Singer/Songwriter
Benjamin Thomas, is one of the most talented and gifted Christian singer/songwriters I've ever known or worked with... We are thrilled to be involved with the production of his 1st EP/Album - WINGS OF LOVE
His songs will be available at most online stores soon. Right now you can hear some of his songs at:  numberonemusic.com/benjaminthomas
CHAD JENNER/DODGING DOVE... Here is a man who is writing songs that will have people everywhere saying - "Where can I buy these songs?"  Ballads, Pop rock, soft rock and more - from a man who has his own distinct sound. We are blessed to be a part of Chad's newest project, and happy he's chosen GODSONGS to be the studio where his songs are produced and mastered. You can find some of his songs at: https://www.numberonemusic.com/dodgingdove
GODSONGSUSA.COM FACEBOOK.COM/GODSONGSUSa
VIDEOS PRODUCED HERE AT OUR STUDIO...